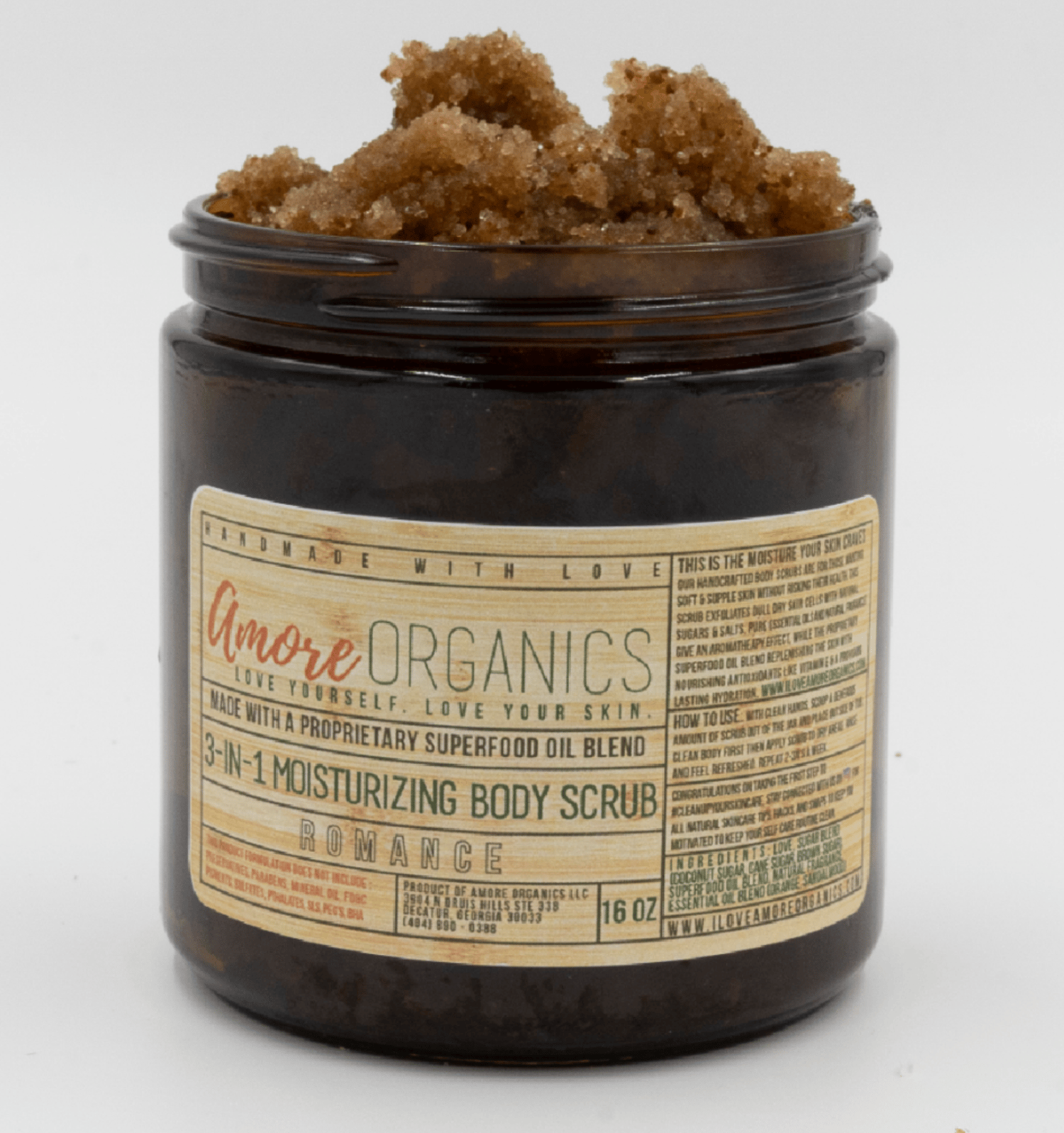 3-in-1 Body Scrub (16oz)
This luxurious body scrub is made with non gmo and certified organic ingredients. It effortlessly takes you away on a self care stay-cation that helps unwind your mind and buff away your day providing you with 3 skin-periences in 1: AROMATHERAPY, EXFOLIATION, and MOISTURIZING.
Our 3-in-1 Moisturizing Body Scrubs comes in (3) handcrafted proprietary essential oil blends:
ROMANCE (1 lb) - sugar blend base with a calming earthy aroma great for sensitive skin. Great for night time use.
PASSION (2 lbs) - salt base with revitalizing citrus aroma great for muscle aches and morning showers. Doubles as a relaxing detox bath soak.
PEACE (1 lb) - sugar blend base with an energizing spicy citrus aroma good for oily and acne prone skin type.
SEASONAL SCENTS:
(all of these are 1 lb sugar based scrubs)
Spring
COCONUT LIME (coconut milk, vanilla aroma, bright citrus)
Summer
MANGO PAPAYA (juicy tropical aroma)
JOY (sweet bubblegum, fruity aroma)
Fall
PUMPKIN SPICE (sweet, spicy, and comforting aroma)
Winter
LEMONGRASS MINT (refreshing herbaceous citrus aroma)
* If you have a base preference TYPE "SUGAR" or "SALT" IN THE NOTES SECTION AT CHECKOUT. Otherwise scrub will come as described.*
ALL OF OUR 3-in-1 MOISTURIZING BODY SCRUBS ARE CRUELTY FREE & VEGAN AND FOR BODY USE ONLY (not for facial exfoliating).
__________________________________________
WHAT'S IN IT?
Love, Salt or Organic Sugar, non GMO Super Food Oil Blend, 100% Pure Essential Oils and/or Proprietary Natural Fragrance blends
WHAT'S NOT IN IT?
Our Moisturizing Body Scrubs are free of parabens, animal byproducts, phthalates, micro plastics, petroleum oils, artificial dyes, and sulfates.
__________________________________________
WHAT ARE THE BENEFITS OF OUR BODY SCRUB?
WHY SALT? -Our proprietary salt blend includes Magnesium and healing Pink Himalayan Salts. These salts are naturally rich in 80+ nourishing and skin-replenishing minerals, which helps to draw out toxins from the body and soothe muscle pain by reducing inflammation.
WHY SUGAR? - Our proprietary raw tri-sugar blend is a gentler texture specifically for sensitive skin. Trace amounts of micronutrients like zinc are found in this eco-friendly exfoliant that helps to heal the skin. It is naturally anti-inflammatory, antibacterial and exfoliates dull dry skin minimizing wrinkles, resulting in a radiant youthful glow.
SUPERFOOD OIL BLEND: Our proprietary blend of 6 naturally restorative and highly absorbent super food oils that provides ultra hydration all day and is for all skin types.
__________________________________________
HOW IS IT PACKAGED?
Our 3-in-1 Moisturizing Body Scrubs come sustainably packaged in glass. When you buy from us you are helping to REDUCE plastic waste in your community. After the contents are gone, you can REUSE the jar for another purpose or REFILL it at any one of our pop up locations. As a final result, if you decide not to reuse it, please responsibly RECYCLE it at your nearest recycling facility.
SUGGESTED USE: Scoop a generous amount of sugar scrub out of the jar and place outside of tub. To prevent from slipping in the shower, cleanse your body first then turn the water off. Grab your scrub and apply and move in a circular motion all over your body, rinse and wave goodbye to dry skin!
Shelf Life - 1 year
*HOME CARE & STORAGE: Our body scrubs do not contain a preservative therefore; it is recommended that you make sure your hands are clean before every use. Store in a clean, cool, dry area. Not the shower. Use with care and clean hands. Do not get any water into the jar.
CAUTION ABOUT USAGE: Although our products are high quality and all natural it does not mean you are exempt from having an allergy to an ingredient. It is always safe practice to patch test first to make sure no sensitivities or reactions will occur.
*The information contained herein is provided solely for educational purposes. These statements have not been evaluated by the Food and Drug Administration. This product is not intended to diagnose, treat, cure, or prevent any disease. Statements related to topical products made with natural food-grade herbs and oils are not approved by the FDA. Our products have not been tested as safe by the FDA. Statements contained on this website and our labels are not presented as medical advice nor should be used as a substitute for consultation with a qualified health care practitioner. If you suspect a serious illness health condition please seek licensed medical help.